Hed Kandi release "Disco Heaven 2010"
Disco Heaven 2010 (2CD)
Released 5 July 2010
THE FRESHEST FUNK-FUELLED DISCO HOUSE

Starring... Gramophonedzie / Louis La Roche / Olav Basoski /
Ridney and Talk / Hatiras / Steve Angello / Hostage / The Cheerz and more...
Welcome to Hed Kandi's heavenly dancefloor where only the finest dance
music plays. Disco Heaven is back and totally transformed from the fluffy and
sparkling House of days gone by into the most funk-fuelled and freshest
selection of filtered Disco House bombs that exist in Heaven and Earth!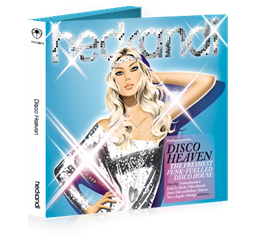 Compilation 2CD
Track 11 CD 1 The Cheerz - Take It (Mix Sync Kitch N)
CHECK IT ON HED KANDI > link